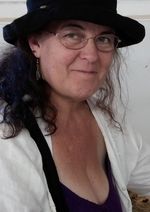 This EP is a joyous and laid back excursion into lovely memories and contemplative moments. The seven songs are full of light and love. You won't find any rage or angst here. The EP notes state that it was created based on their love of nature and partially inspired by the book, Last Child in the Woods, by Richard Louv – which I now want to read too!
The song, "Outside", has the spirit and timbre of the John Sebastian tune, "You're a Big Boy Now." It is the story of a boy riding his bike, enjoying playing outside and finding his way home by neighborhood landmarks. It is about the time when kids could play outside safely and their parents didn't need to worry.
"When I was a boy I played outside all the time,
I used to ride my bike looked up at the trees,
skinned my knees but I was fine.
If I got lost riding my bikeI just looked for the top
of the red brick chimney..."
"Reach for the Stars" tells us about ways to address anxiety. This is another easy-going, kind-hearted tune. It would be a great a song to learn and sing with your kids by a campfire under the stars.
"Sometimes when I'm on the beach,
there the sun's gone down outta reach,
the city lights, the night sky comes.."
"Back on the Good Road" is a philosophical reflection on being lost and then found.
"Most days are brighter than others
some nights can be as dark as coal
sometimes it's of our own making
the wrong turns we're taking
when we lost our way."
"Love Song" is Plainfield's cover of a song written in 1969 by Leslie Duncan, and recorded by Elton John on his album, Tumbleweed Connection. It's an anthem from the Age of Aquarius that conveys the healing message of love. It still applies today.
"The words I have to say
may well be simple but they're true,
until you give your love
there's nothing more that we can do.
Love is the opening door.
Love is what we came here for.
No-one could offer you more.
Do you know what I mean?"
"You Can't Find Me" is about how a man retreats into his man-cave to recharge himself.
"A place where you can't find me at all
–yeah yeah yeah – yeah yeah.
Well I'm an outdoor man at an indoor time,
made mostly of water by design.
I need a place where I'm not around,
a little more lost than a little more found."
"Favorite New Thing" is a song about slowing down and being grateful for the little things.
"Birds on a wire
getting ready to retire
and the sun sinkin' down,
loving doing nothing
after years of chasing something,
hoping I may fall a little behind.
I'm sitting on the backporch
watching my dogs run around
and around and around."
"Isn't Love Something?" is one of those tunes glorying in the joy when unexpected paths cross and result in love.
If you want to hear an EP that makes you feel good about being alive, this is it. The band is assembled from musicians who have worked previously with big name musicians.
The Plainfields are:
Gary Shiebler-vocals, acoustic guitar, keyboards (founder)
Jimmy Johnson-bass (Patty Loveless)
Jenny Pore-vocals, acoustic guitar, keyboards (The Thimbles)
Billy Thomas-drums, percussion (Vince Gill)
Chris Casello-acoustic, electric guitars (Brazilbilly)
Michael Baker-acoustic, electric guitars (Roger McGuinn)
Gary Shiebler is also the author of The Search for the Perfect Dog, as well as other books about animals.
Check out their website at www.plainfields.com.
EP cover image from plainfields.com
Kim lives in Maine, which is lovely, and where she continues her enthusiastic relationship with Art, Music, Nature, Books, Animals, Humor and Trees.