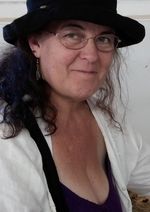 Well, the last time I saw these guys I said I was going to see them again as soon as possible. So my son, Ranin, and I went to Port City Blue again with skads of other people, and the place was packed by 5:30 pm. That was a good sign. I found a table right up front. As the "Ghosts" assembled on stage they told us that all the songs for this gig would be original compositions. They began with "Fare Thee Well", a veritable acoustic and harmonic minor-key dirge featuring the sociopathic lyrics of a cruel, possibly jealous husband, who carries out the demise of his golden haired bride right in front of us — musically, that is! Next was a song honoring the explosion at the Stag Canyon Mine in New Mexico, the second worst mine disaster in American history, which claimed over 250 souls.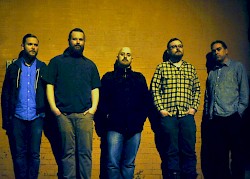 After that was the song, "Evelyn McHale," about "the most beautiful death," that of Evelyn McHale, who decades ago leaped to her death from the Empire State Building and landed on a parked limousine in her red dress and pearls, looking like a woman sleeping in the folded blankets of metal. By then we could sense that a theme was emerging that fell somewhere between the stories of Edgar Allen Poe and America's Most Wanted. There were more story songs: one about America's first serial killing family, the Benders; the correspondence between heartsick lovers of the Gold Rush; some Civil War tragedies such as The Sultana Steamboat disaster which claimed over 1800 souls; and finally, the influenza epidemic of 1918.
I found myself getting emotional, realizing that the essences of remorse and sorrow most probably linger near the earth, and that this band is picking up on these atmospheres and serving as a mouthpiece for stories that long to be told. I imagine more ghosts lining up behind Amos, tugging on his sleeve; "Tell my story now! Tell mine!"
Their mission is profound. They are bringing back a genre from a bygone era that feels prescient and important. Doug Porter, Erik Neilson, Erik Winter, Ian Riley and Amos Libby were supported vocally on some of the tunes by Bridget Isabella Semier.
Photo used with permission
Kim lives in Maine, which is lovely, and where she continues her enthusiastic relationship with Art, Music, Nature, Books, Animals, Humor and Trees.