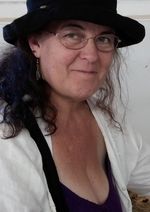 I had the exceptional pleasure of first hearing Teresa Tudury at the Sweet Chariot Music Festival on Swan's Island Maine in 2014. Her presence, her fluid and wild voice, guitar playing, humor and deep heart blew me away.
There are many singer-songwriters out there, but few can reach into the DNA strands of existence as if by shamanic trance. The collection of songs on this CD are original, funny, and profound. Ms. Tudury is a listener. I feel like she perceives the reality between worlds, she reaches into the Akashic records of time and place, and writes.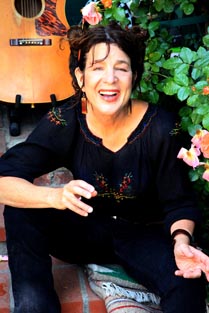 "Miss America" is a tender love song for America, for Lady Liberty, insightful and respectful. Whoever thought of her as a drunk who needed an escort home? Show the old girl home. The sympathetic rendering of this metaphor is startling in its kindness.
"She's drunk again, and all tore down
lipstick is smeared and she lost her crown,
let's me and you show the ol' girl home"
and
"From fine champagne, to Everclear.
Some greedy men used her badly I fear"
A song of insight, kindness and love.
"Ride 'Em Cowboy" A perfect country and western song complete with a screen door creaking, a card game, some grief and a stolen heart.
"Our Lady" This is an exquisite, sensory-soaked love song. "Oh, she has a such a tender heart."
"A Tom-Cat Needs a Lady" is a wonderful love song (and a true story!) regarding a feral cat that flirted at her door. The perfection of her description of his indecision is captured not only in the lyrics but her two voiced delivery of the Tom-Cat and the Lady.
"Descended from the tiger, forced to hunt in a barn,
My little frame cannot contain my lion's soul,
from saber tooth to kitten on Old MacDonald's farm
now a Tom-Cat needs some lady to be whole."
"New Orleans" is a song about the suffering of the city post-Katrina. As a native, she renders a sorrowful song about the continued suffering.
"Oh the water keeps rising, covers the city like a stain
fears the only bee that seems to be flying
...New Orleans ain't never seen this much rain.
I heard them yeah, the levee's busted,
we're up to our eyes in Pontchartrain,
and big news the government cannot be trusted.
New Orleans ain't never seen this much rain."
"Little Bluebird" is a symbolic song warning the innocent regarding the predatory. Chilling.
"In the forest was a raven
who spied a little bluebird's nest
he'd been woken by a craving
we all know bluebird's eggs taste the best."
"The Phone Call (Put Mrs. God on the Phone)" is for anyone who wonders about God and the state of the world, and a determined woman's efforts to get some answers. It starts out with a great negotiating technique, complimenting him on his achievements!
"Lalalalalala.
Oh, the Bible says for certain that you are in fact a man
and I'd say you got great taste for a guy.
You've made mountains and rivers
and the luscious scent of roses,
and I just love what you've done with the sky."
Then she begins to skewer the Almighty regarding all the problems humanity is dealing with and then cleverly suggests that
"...but a fellow of your stature
couldn't be a bachelor
so come on put Mrs God on the phone"
This song is full of lyrical zingers, delivered with power and humor, and is satirical but poignant. A masterpiece!
"When the Wind Blows Up" If this isn't a heartbreaking song I don't know what is. A woman watching for ships to return with her lover on board while standing side by side with the wife and family who don't know about her. Ouch.
"Hey Mr. Baby" is just a gem. Teresa writes songs of beauty with sensitivity but her comic talent sky-rockets. How many of us have had our feelings hurt by a little kid?
..."You adore me
so why do you ignore me?
so hey Mr. Baby won't you be nice to me?
I implore you
you know that I'm all for you
Hey, Mr Baby why don't you be nice to me!
You're only three, how can you be so aloof and cool?"
"Riding Through" is an atmospheric song about the night visitation of a departed lover, riding on his ephemeral horse. Gorgeously produced.
"My Starry Crown"
"I have earned my starry crown.
I lay down this sword and shield.
And through my throne of knowing, I will not yield."
"Such Fine Things"
"It once was clay in an artist's hands.
It once was mud mixed with sand.
But the fire turned it blue and singed it gold.
Now it can hold such fine things."
Teresa's gifts are many. She sees through the BS, she feels things in the deepest parts of her goddess-golden heart and she takes the time to listen to the messages between the worlds until the strings and the voices find their way to her fingers and throat and she lets them fly. She is fearless and honest, playful and kind, and the muses fly about her like tiny angels until they light a fire and the songs are made manifest.
Photo from teresatudury.net
Kim lives in Maine, which is lovely, and where she continues her enthusiastic relationship with Art, Music, Nature, Books, Animals, Humor and Trees.