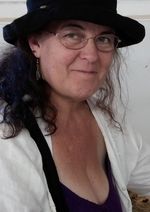 My heart is torn open by the beauty of the young male energy which surges from these compositions and performances. It's hard to believe that Tall Heights is only two guys with a guitar and a cello. Tim Harrington and Paul Wright were born gifted, and have worked to create a distinct sound.
The first cut, "Controlled Burn", has a catchy, moody melody, with great feeling. There's a Loggins and Messina or Seals and Crofts passion in the delivery. There is nothing predictable or boring here. The lyrics are poetry – in fact, the imagery brings to mind Dylan Thomas and Ernest Hemingway.
"Burn
Left me out
a hound ungroomed
with one high moon
I was consumed
I howled to it."
…
"Oh I was loud
in drinking rooms
and dim saloons,
when I found you,
I found you wounded.
But you wore your heart like a lady
and I lit your smokes like a man."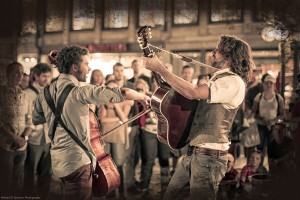 "Heart of Stone" is a song that could be the theme song of the strong silent type.
"I know that I can keep the voice of doubt from speaking on its own
Cuz I've always been a silent figure
And I've never been a man of stone"
"Murmuring State" is a passionate song that takes place on the Maine coast.
"Outside there was a rustle in the oak leaves,
there was a frost that was starting to heave
so many more at home
singing their kids to sleep."
"The Running of the Bulls" – Could this song be about the end of love?
"Would you try to tame the running of the bulls?
Would you have combed through the streets in the strife?
Would you try to brave the pushes and the pulls?
But the dress you wore is red,
so this is how we say goodbye this time"
"Eastern Standard Time" – In this song, the deep cello notes at the end serve its sad and longing spirit. The blending of their voices is intuitive and rich, and the addition of cello with guitar gives the music a bass-throated under-current. And their voices are so good. Not every performer that comes along actually sings well, and these guys each have a wonderful range. The melodies are lovely, and rise up from the depths like geysers.
"The waves on the shore take all my being, goodbye goodbye."
"Somewhere I Believe" has kind of an experimental feeling, with syncopated time-signature changes, and a melody that flies and flies, like clouds of starlings changing course.
"I'm falling all over myself to earn my keep."
"Flash Boom" has a really odd, discordant musical bridge that discloses a knowledge of classical music. You think you know where it's going but then there's a surprise.
"Field of Snow" reminds me of something Andrew Bird might've written. Just so damned pretty.
"Have you woken to a field of snow
looking up into a cold blue?"
"Learn Again" has a chord progression and melody more reminiscent of Simon and Garfunkel than any other cuts on this CD. The temptation to compare them to Paul and Art stems from how well their voices work together in expressing the emotion in both music and lyrics.
I'm looking forward to listening to this album many times. Every time I listen, I hear something new. Check out their website at tallheights.com.
Press Photo by Michael D. Spencer
Kim lives in Maine, which is lovely, and where she continues her enthusiastic relationship with Art, Music, Nature, Books, Animals, Humor and Trees.