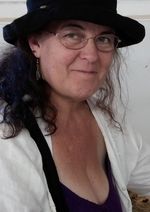 It is an honor to hear an album of this caliber. Susan Cattaneo conveys exceptional qualities here. In fact, I get the sense that the musicians who collaborated with her feel that way too. She is a life observer and a life feeler – there's almost a paranormal quality to her insights into the stories she tells: a brokenhearted farmer, a twin sister murdered by her sister, broken marriages, women wronged by their men, a burning barn, a revival meeting, survivors of love, survivors of life, dance halls and cowboys. The melodies are somewhere between country and pop – both audiences would like her. She's got the power and the glory but the sensitivity and gentleness too. If I had to choose someone that she reminds me of, I'd have to say Eva Cassidy.
In "Worth the Whiskey" she says,
"Take a sip for every time you lied and kissed me."
This is the song of a woman scorned, and you can feel the scorching on his sorry ass. This is a Bonnie Raitt kinda song.
"Revival" tells of an evangelist who's got "the heat in his hands." She's not saying if she's a believer, but she watches it all with an honest heart. Kenny White carries us along with his minor key piano, and the whole band channels the spirit.
"Lies Between Lovers" has the musical hook which could attract mindless listening, but her writing nails the sad reality –
"crooked scars are gonna fade,"
and,
"little ones between us taking cover."
"Memory of the Light" is a heartbreaking song about being:
"a casualty of the casual way you look at me
it's like you never knew me at all
you know you used to be
the sun, the moon and the stars to me
now all I see is a vacant sky
when I look into your eyes
I see the memory of the light"
This song tells about the irony of the deepest intimacy that turns cold. I haven't heard a woman turn her heart inside out like this since Joni Mitchell's Blue.
"Haunted Heart" is a Patsy Cline/Patti Page waltz, with a roller skating organ and brushes on the drums. Her voice is dreamy and creamy, like a pretty woman in a taffeta gown and long white gloves – romantic and elegant.
She conjures up Dale Evans and Roy Rogers in their cowboy shirts with fringe and lassos, in the song, "How a Cowboy Says Goodbye."
"Why don't you sing me a love song and lay your heart to rest?"
She gets through this without a yodel but it makes me so lonesome I could cry. How does she do it? Y'all go buy this album, it's too good to miss. Visit her website at susancattaneo.com.
Photo by Jyoti Sackett
Kim lives in Maine, which is lovely, and where she continues her enthusiastic relationship with Art, Music, Nature, Books, Animals, Humor and Trees.