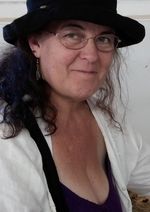 One thing I must say about Smithfield Fair, they are prolific! They crank out the sounds, the songs, and the heart. They are human beings living in their town, paying their bills, cooking breakfast, and writing and producing albums and doing live performances. Many people think that they don't have time to be creative. Balderdash! I love the fact that there are people who wake up with a song in their heart and then they take the time to write it down and record it and play it for others. This is using the gifts you've been given!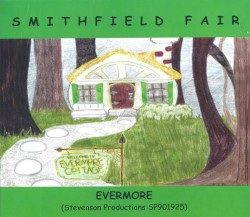 "Love is a Mystery" penned by Jan Smith, is a bright bold song, full of energy and beautiful harmonies.
"Love is a wealthy heart
cannot be sold or bought
You make me richer when
I'm in your arms again
Love is a mystery."
Smithfield Fair really gives it all they got. They create harmonies and musicality that is kind of like the wall of sound that Phil Spector was going for except its more Cajun and Scottish. And they mention tea and sugar a lot – I'm not sure which cultural source that stems from! I appreciate their love songs, written with sincerity, that express not only the gifts of their musicianship, but also the love shared in the marriage between Dudley-Brian and Jan.
"The Bells of Evermore Cottage" sounds like an old tune but it was written by Jan. It is evocative and makes me think of an English garden, as if the white coral bells on slender stalks are singing along with Jan and her fluid piano.
"All Life Long" is a rhythmic call to a lifelong dance. It has a liberating and fun melody but is a sweet dedication to love. This is a song for weddings and anniversaries, for times when people want to dance and pledge their love again. I love that notion. It features Smithfield Fair's full sound created mainly by three people, Jan, her husband Dudley-Brian, and his brother Bob, and a few friends.
As I listen to this album I'm wondering if one or more of them fell in love again. "Evermore" is a pledge of love too, another song that could become a standard for weddings and anniversaries. Some people think love is corny, but Smithfield Fair doesn't. I think it's beautiful that there are people out there writing about love and the recommitment of love and the continuance of love even after one in a couple ascends. We need more of that. We need tons more of that.
"Home Again" expresses that feeling too. Coming home, setting the table, having dinner and being together. Life's simple joys.
"Reason to Ride" has a driving energy, I'm wondering if it's a car or a horse that he's going to ride to shake off the
"tempest in a teacup,
another kink in the hose of life,
some wild cosmic crack up."
Really great 12 string guitar in this one. I want to listen to this and get on my rocking horse and bang the hell of out of the floor like I did when I was about five.
"Little Margaret" is a lovely tribute to the artist who created the drawing of "Evermore Cottage" for the album cover. I wonder with all the love in that song if she could be the daughter of one of them, or someone close.
This album is a real delight. It means that one of these days I have to travel to Louisiana to hear them live. Y'all got a big Yankee fan now!
Finally, I'm reminded of lines from this poem by the wonderful Kentucky poet, Wendell Berry:
"... Our old vow
has kept us returning again and again
to this garden that once more we begin
that in our ways we both were born to,
work of love the passing sun cannot undo."
CD cover illustration by Margaret Smith (Click on image for larger view)
Kim lives in Maine, which is lovely, and where she continues her enthusiastic relationship with Art, Music, Nature, Books, Animals, Humor and Trees.