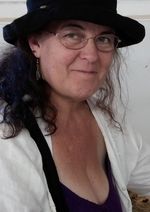 It is always impressive when a person creates an entire album playing all the instruments and performing all the singing parts by themselves. I think the first time I heard someone do that was when the newly married Paul McCartney came out with McCartney during the breakup of the Beatles. Doing an album alone is a brave thing to do because it exposes the strengths and weaknesses of the musician. Paul snagged a number one hit with "Maybe I'm Amazed" but the critics went after him for creating an album with what amounted to an abundance of unfinished ideas. (I loved that album, by the way!)
Roland has a lot of strengths. His music bespeaks influences from the sixties that range from the Dave Clark Five and early Beatles, to the Moody Blues, the Zombies, Three Dog Night and Jim Morrison. He also has a flair for writing lyrics.
The title song, "Sell Your Soul" has a lot of energy and he has a good voice. The song is an insightful critique about life with our young hero trying to figure out a career and outmaneuver the sharks.
So I packed in the jobs and some girlfriends
For my distinguished career in song
But what do you know? Everywhere you go
It's the same old thing you have to be among
"Come here son and sign this contract.
I'm a good-old boy I won't let you down.
Percentage royalty, non-recoupable advance,
This record's gonna be the hit of the town." Alright!
"You Won't Be Seen" has a catchy tune, some interesting harpsichord work and complex background vocals. "Riding On" has a kind of call and response style of singing, scorched throughout with a frenetic electric lead guitar.
"In the Night" has a melodramatic intro, with an eerie Halloween feel and a spooky organ.
The pernicious acts of the murderers
Have caused affliction and despair
Innumerable amounts of suffering
It is all too much to bear
It would be a great background song for a grisly scene from "Twin Peaks" or some other crime drama. Toward the end his voice surges into what sounds like he's channeling Jim Morrison of the Doors.
"Fog Country" opening bars reminds me of the Three Dog Night song "Mama told me not to come," and then it goes ominous and foreboding. "Radiant Vessel" has a catchy chorus. "Next to You" features a driving electric guitar.
"Aerosol Can" is one of the best songs of the collection. It is clever and kooky, with imaginative lyrics. It reminds me of the B52's "Rock Lobster".
As I stood wholesome in a twisted line
She crafted my sandwich and looked oh so fine
So sweet and so gentle when her eyes met mine
I'll have to catch her at a better time
This album feels like it's the first stage of a rocket that blasted off but it needs a bit more rocket fuel, as if it reached its burn out velocity prematurely. I would like to see a little more fuel, maybe the input of another creative mind that could help with the melodies. Roland has a lot of good ideas regarding production, lyrics and musicianship. I would like to see Roland team with a Lennon to bolster his McCartney.
Photo from Bandcamp - Roland Pearsall - Sell Your Soul
Kim lives in Maine, which is lovely, and where she continues her enthusiastic relationship with Art, Music, Nature, Books, Animals, Humor and Trees.