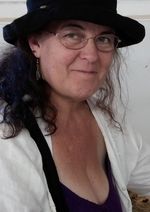 Rick makes me smile because he comes up with little ditties that crack me up. "Boss Ain't Here", includes the lines:
"Boss ain't here so there ain't no work today"
Which is definitely a shoe-in for the Lazy Employees National Theme Song. It's a quickstep cowboy swing number that Dan Hicks might've written.
"Flipped the Switch" has humor, a trombone and a wondrous tinkly piano. Dandy!
"Blue Conversation" weeps along beside a sorrowful fiddle, in fact, it just makes the tears roll down.
"Rosewood Listens" is a love song to a guitar and how it responds:
"Rosewood listens. It has the sweeter tone.
Mahogany just makes me feel alone."
Who would know that unless they were intimate with a guitar?
Rick is really good at writing cowboy swing songs. He does it again with "Just Barely Texas". It bops along with all the guitar and fiddle joy you could ever want. I can just see the roadrunners and tumbleweeds. It makes a Yankee like me want to venture down and see the Lone Star State. (Maybe at night, undetected!)
Rick seems to like to write story songs about historical trains, boats, rivers and towns. "Yellowstone" is about a steamboat that sailed the West Missouri River during the height of the fur trade. I think he wrote "Apalachicola" to make fun of people who can't say it. It seems to be the birthplace of his daddy, built on the banks of the Gulf of Mexico. There's a lot of fine fiddling and picking on this tune. By the way, the population of Apalachicola is just over 2,000 people, so if you're looking to relocate they might have room for you. Some of the locals say the town name means, "land of the friendly people."
"Shaughnessy" is about Irish lovers separated by work and distance. Very nice harmonies and playing. The CD ends with "Where's the Party, Patty?", the honky tonk story of people on a quest to find a party. Rick Adams has created another fun album full of energy and playfulness. He would be fun to see live, I get the feeling he gets a lot of joy out of performing. You can buy his CDs at www.cdbaby.com/cd/rickadams12 or you can reach him at rickadams1933@gmail.com.
Photo by Katrina Marye Adams
Kim lives in Maine, which is lovely, and where she continues her enthusiastic relationship with Art, Music, Nature, Books, Animals, Humor and Trees.