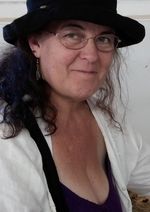 Sorcha and the Clearing took the stage after a fine performance by opening act, Rusty Belle. Sorcha is well-known in Portland for her diverse musical ability and great voice. Although she has played a lot of roots music, this five member band expressed more of her hard driving sound. A few years ago I heard and loved her work with a female bluegrass group called "Ramblin' Red."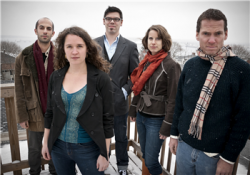 This band is a collaboration of collaborators. The musicians include guitarist/singer and music instructor Joe Farrell; keyboardist/violinist/singer Patia Maule; bass player Adam Montminy; and drummer/voice/beat box instructor Chas Lester. These folks not only play music with each other, but if you spend some time on YouTube you can find videos of them playing on various stages with many musicians around Maine.
Their sound is an amalgamation of styles; rock, blues, (did I hear a hint of reggae?) and jazz, with an Indie flavor. It is all original music written by Sorcha. Joe was a pleasure to watch on the guitar and vocals, he seemed very free and relaxed. Chas radiated a joyful spirit as he drummed, and Adam was very laid back and capable on the bass. The diminutive and feminine Patia was masterful at the keyboards and backup singing. Sorcha has a confident and passionate presence – she's young, but she looks comfortable on stage, and is invested in her compositions. She seems to take a lot of pains in songwriting to find the right wordplay and imagery in the lyrics, and at the same time gives her bandmates creative freedom. The end result is musically intricate and dynamic.
"Delirious" is a sultry flirtation:
"You're so cool
so curious
You are so hot you're delirious
You're a big shot
Well, for serious
You're just what I need."
"In Your Company" has kind of a Crosby, Stills, Nash and Young feeling:
"I'm investing in your company
you got premium market material
you wanna share it with me
I'll trade you ten rhymes for one harmony
oh you always get a good deal with me."
The lyrics are Cole Porter catchy and smart.
I like a dramatic technique they used to finish some of the songs; Sorcha, Patia, and Joe sang in three-part harmony and then built to a sudden a cappella crescendo. I felt the thrill of their hours of practice paying off.
Other notable songs were the fast and furious "Spark," which for some reason made me think of Jefferson Airplane. Ironically, Sorcha said that she penned it on an airplane. "The Fold" has the intensity of early Melissa Etheridge songs. It was obvious that Sorcha and the Clearing love what they do, and they put on a great show. You can find out more about them and buy CDs from these websites:
sorchaandtheclearing.bandcamp.com,
reverbnation.com/sorchaandtheclearing,
sorchastudio.com/projectscollaborations/sorcha-and-the-clearing.
Press Photo from sorchastudio.com
For music lovers visiting Portland, Maine, I highly recommend
One Longfellow Square ~ "Portland's Premier Arts Venue"
Check them out at
onelongfellowsquare.com
.
Kim lives in Maine, which is lovely, and where she continues her enthusiastic relationship with Art, Music, Nature, Books, Animals, Humor and Trees.