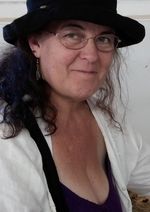 I love the bright colors of the landscape artwork on the cover because it is a perfect reflection of this primary colored music. Jim Carr, Dave Erickson, Deon Kuhl and Robert Strickland are experts in their genre and they play with great refinement. This music is not edgy, coarse, or discordant. There's no feedback, no dissonance. It's like going outside on a sunny day. Sometimes you forget what a good job the sun is doing to make everything look and feel so good and beautiful when everything is bright and glistening. This music is like that. It is uplifting and positive, and worth a second and third and fourth listen to catch all the precision and subtlety.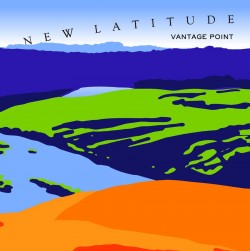 The first cut, "Springtime," is bright, crisp, joyous, and fun. It's kind of a Beethoven's Pastoral Symphony No. 6 for jazz guitar. I've listened to these guys for a few years now and I like this better than anything they've done previously.
"The Journey" is pure joy. The complexity of instrumental music is sometimes underrated, as well as the skill it takes to play with such ease and freedom.
"Just Ride" is optimistic, it speaks of openness and acceptance.
"Five Mountain Dance" is lush and sprightly.
"Birds of Prey" is moodier than many of their tunes and exhibits more sharp shooting guitar playing. These guys fly on their instruments yet they sound so effortless.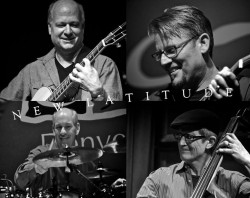 "Gone Before" is the only song with a vocal – a sweet male voice reaching above the foundation of the guitars.
"Incantare" invites in a feeling of something Mediterranean with a touch of Renaissance – evocative and relaxing.
This is non-confrontational music, perfect background for a party. New Latitude loves what they do, you can feel it in each track.
CD Cover Art by Greg Erickson, Photo used with permission
Kim lives in Maine, which is lovely, and where she continues her enthusiastic relationship with Art, Music, Nature, Books, Animals, Humor and Trees.