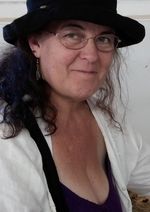 It was a chilly night in Portland, Maine, and there was an eager crowd at One Longfellow Square waiting to see Mary Fahl. Wow. This was the second time I've seen Mary live. She played a lot of songs in the first set that I had heard the first time I saw her. And they were amazing. She has a voice for the ages. She's not a placid, sing-songy, half-way kind of person. She engages her whole being with her voice, and pours the passion into it. She throws her head back and becomes a column of light. I wondered what it would be like to be inside that body, experiencing the vibration of that sound from within?
Her voice is completely unique but there's so much more. She really is a romantic, a person of sincerity. I felt that so much as I listened to her compositions. Her songs have phrases like "Forgive me" and "I love you." Seems so ordinary, right? When's the last time you heard someone sing like that? Like singing from a Shakespearean love story. Straight. No BS.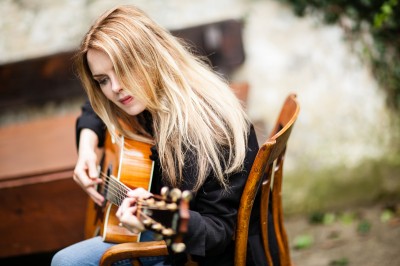 I don't know, maybe it's me. But there seems to be a snarky, conditional atmosphere in a lot of modern songwriting and singing, and the songs lack depth. They lack commitment. A lot of music is shallow. It doesn't convey any innocence. Even though Mary Fahl was the lead singer of the October Project which was a band with a gothic look and atmosphere, the songs were sincere. They didn't seem to be about one-night stands or passing relationships. They were more epic, like the burning commitment of love you read about in Greek mythology. Ironically, Mary has written songs about the Sirens and Persephone.
"Meant to Be" is her love song about finding love late in life, which she said that she sang at her wedding, wearing her wedding dress with a guitar! "Gravity" was written for her husband, Rich, whom she said is a man who doesn't hold grudges – and who is in her estimation, a man worthy of a love song. How many women speak about their husbands with this kind of respect and honor? It's beautiful.
She talked about our precarious world situation, similar to 1914, and told us a funny story about her 94 year old mother who had a dream about Michael the Archangel, on horseback, speaking like a New York cop, telling her that "everything is gonna be alright." And she sang a song she wrote by that title, hoping it would be the mantra that stuck in our heads.
We heard "Exiles," the theme she wrote about 'altruistic werewolves,' as the theme song for the Anne Rice novel, The Wolves of Midwinter. As an interesting aside, there's a really cool YouTube interview featuring both Anne Rice and Mary Fahl and the mutual influence of their songs and books. Check it out: Anne Rice - Mary Fahl Interview.
Mary rewrote the lyrics to the old Irish song, "Dawning of the Day," for a 9/11 memorial and for the movie, The Guys. Struggling to write a final line of lyric on the morning the piece was due, she had also been reading the biography of the poet, Edna St. Vincent Millay. She prayed, "Edna, help me out here," and a line came to her which Mary said did seem like something she would have written:
"But the edge is moving nearer now inside the fading sun, and calling, calling out to them my brothers, one by one."
Go to this link and listen to this, it is God-inspired: Mary Fahl, Dawning of the Day, 9/11 Tribute.
As the show continued, Mary opened like a rose. Her deep heart and funny sense of humor opened and opened, and the music became a co-mingling of her vast love, her humility and honor for life, the sacrifice of soldiers, and things divine – all channeled through her amazing instrument. She ended the evening with her songs "Going Home", from the movie, Gods and Generals, and "Everythings Gonna Be Alright." Then she added a little bit of Blind Willie Johnson's, "What is the Soul of a Man?", and finally, "La Vie En Rose." Mary Fahl is an astounding singer, and a sweetheart of a human being. To hear her tonight added to my humanity. I'm so glad I went to the show. Visit her website: maryfahl.com.
Press Photo from maryfahl.com
Kim lives in Maine, which is lovely, and where she continues her enthusiastic relationship with Art, Music, Nature, Books, Animals, Humor and Trees.