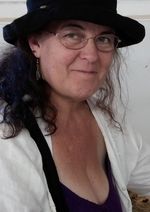 There is not too much Christmas music I want to listen to these days. So much of it has become the soundtrack of the retail train-wreck of 'the Christmas season'. One can hardly listen to Christmas carols any more without thinking about credit cards, discounts and smartphone apps. That's why this album is such a treasure.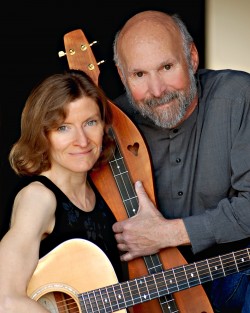 Jubilant Bridge, the duo comprised of Willie Jaeger and Carol Van Alstine, are consummate musicians. Carol's crystalline soprano voice and Willie's sensitive tenor blend beautifully, and the spare and careful acoustic arrangements are played with precision. Their high standard of musicianship is beautifully paired with these rare and uncommon songs – I only recognized three out of nineteen. Their performance is evidence of the senses of musicians who are tuned into a parallel universe of sound that few mortals know.
The collection of carols is unusual and many are from different cultures. Carol's lovely composition, "A Bell, A Bird and Star" opens the album. They've included lyrics too, which are fascinating because they're spelled out and pronounced in the style in which they were written. Here's a sample of a medieval text put to music by Benjamin Britten, entitled, Balulalow.
Oh my deare hert, young Jesu sweit, Prepare thy credil in my spreit,
And I sall rock thee to my hert, And never mair from these depart.
It is such a joy to hear songs of Christmas and winter that are relatively unknown. One I particularly love is "Carol of the Russian Children", and the images conjured with these lines:
Fur-robed moujiks, fur-robed nobles, fur-robed children, see the light.
Shaggy pony, shaggy oxen, Gentle shepherds, Wait the light.
"Personent Hodie" and "Gaudete" are utterly gorgeous examples of ancient holy music, both from the Piae Cantiones, a 1582 songbook. Willie has written instrumental interludes for guitar and hammered dulcimer, with enchanting haiku-like titles: "Dancing Foxes Drifting Snow", and "Nighthawks Grace the Frozen Moon". "Tomorrow Shall Be My Dancing Day" is an English carol they sing in a round. It flows and soars, settling like soft snowfall. Another gorgeous little song we should hear more often was penned by Sydney Carter, "Every Star Shall Sing a Carol."
The album finishes with Carol's song "My Mother Gave the World to Me." It is a prayer to Mother Earth, or perhaps to her own mother, or to Divine Mother. It strikes me as being received in a vision.
My mother gave the world to me, Every bird in every tree,
Every creature of the wood, All I looked upon was good,
she gave me, she gave me, she gave me, she gave me.
This song undid me and made me sob. I think it is the Christmas star of the whole album.
I've collected a few Christmas albums over the years that I'm not sick of; The McGarrigle Christmas Hour, Loreena McKennitt's Midwinter Night's Dream, The Chieftains' The Bells of Dublin. I gladly add this offering from Jubilant Bridge – A Bell, A Bird, A Star and I recommend that you do too. And besides the music, it has a beautiful jacket design! They can be reached at www.jubilantbridge.net, or jubilantbridge@gmail.com.
Press Photo from jubilantbridge.net
Kim lives in Maine, which is lovely, and where she continues her enthusiastic relationship with Art, Music, Nature, Books, Animals, Humor and Trees.