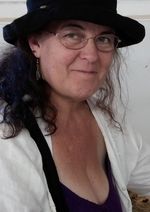 My husband was sick so I went to this concert alone, which made me feel a bit bereft. I found a parking spot in a questionable pile of snow a few blocks from the venue, and said a little prayer that I would be invisible to the tow-truck goblins. When I got there I was pleased to see a good-sized crowd gathering. I love Mainers – they don't seem to be stopped by the cold.
I took a front row seat on the side and before long, four nice looking young men, three of them in jackets and ties, took the stage. I thought it was a little weird that an MC didn't come up on stage to announce the show, but they didn't let on that it was an issue. Consummate professionals!
The four musicians were Jason Anick on violin and guitar, Greg Loughman on bass, Mike Connors on drums, and Jason Yeager on piano.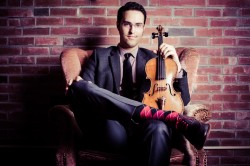 They started out with a Django Reinhardt tune. I closed my eyes and I felt the stresses of the day fall away. These guys were so good, I relaxed into their excellence. They played the winsome tune, "My One and Only Love," and tears filled my eyes.
Jason Anick's violin tone is sweet and woody, mellow as red wine. They played with the intuition that jazz musicians have, feeling their way through each piece of music as if traversing landscapes – arid, rocky, mountainous and lush green forests of sound.
Jason's composition "Occupy," about the movement last year, began with a throbbing bass, a beat, and shimmering cymbals. Then Jason took off with his acoustic/electric mandolin. Tempos changed and shifted, and pianist Jason Yeager played with his eyes closed, listening and waiting to bring his fingers down on the keys at the right moment. Mike Connors was building, building, building on the drums.
Next they played a cover of "Something," by the Beatles, and then "The Keeper," a tune written by Jason Anick as a teenager. The unspecificness of jazz is what makes it beautiful – the quality of unregulated, unstructured liberation. The spontaneity flowed in the touch of the notes, eyes and ears, in a made-up language of the moment. Jason Yeager lifted off of his seat with enthusiasm. The ecstatic dimension of a performance like this could be compared to making love – you make it up as you go, but when it works, it works – you've been there before, but it's new. And in this case, it wasn't just the musicians but it was the audience too. Everyone was swept away by the passion.
During the break I called my husband and he told me there was a parking ban in downtown Portland because of the snow, so I needed to move our vehicle before 10 pm or it might get towed. I stayed for two more tunes. Watching these guys was like witnessing horses let out of a barn. Their music pulsed with force and joy, power and spontaneity.
The first song of the second set was called "The Turn Around." It was full of humor and playful energy. Mike and Greg played solos with pauses and crescendos, and all four seemed to surprise each other. You could see the obvious joy in their blissed-out facial expressions. If Ella Fitzgerald had been there she would've been scat-singing her brains out all over that tune.
Jason Anick asked the audience if any of us talked in our sleep, and then asked how would we know if we did unless someone told us? His fiance once spoke to someone called "Maryandra" in her sleep. Jason related that at the time he sensed a song was at hand and so picked up his mandolin and composed a tune about her dream. I reluctantly had to leave when it finished, missing the rest of the concert, but I was so glad that I came. I wanted to kiss their hands for creating so much beauty.
To learn more, visit jasonanick.com, jasonyeager.com, gregloughman.com, and facebook.com/TheAmazingMikeConnors.
Photo of Jason Anick by Andy Cambria
For music lovers visiting Portland, Maine, I highly recommend
One Longfellow Square ~ "Portland's Premier Arts Venue"
Check them out at
onelongfellowsquare.com
.
Kim lives in Maine, which is lovely, and where she continues her enthusiastic relationship with Art, Music, Nature, Books, Animals, Humor and Trees.