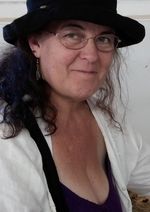 Oh, this collection is just good beyond words. The musical boys of Darlingside are matched up with the ethereal femininity of Heather Maloney for this EP, and they are a revelation. By the way, Darlingside is: Don Mitchell, guitar, vocals; Auyon Mukharji, mandolin, violin, vocals; Harris Paseltiner, cello, guitar, bass, vocals; and David Senft, vocals, bass guitar, guitar.
The first cut, "You Forget," is comprised of lush strings, sincere vocalizations, and is ripe with the longing sadness that depicts young love.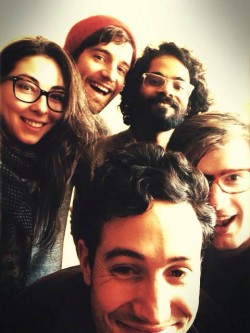 "Roadside Lily" is a poem. Heather zeroes in on the detail of the tiny life of an exquisite flower, growing in a hazardous spot. The song is packed with lovely images – a girl depicting herself as 'delicate and pointless,' left behind by her father and others until the coming of the love interest, the 'roadside raven.' He, of course, is unrattled by the sixteen-wheelers roaring by. The juxtaposition of the lily and the raven seems like a theme right out of Basho's 16th-century haikus, if it weren't for the trucks.
Their cover of Joni Mitchell's "Woodstock" received well-deserved praise from Graham Nash in their press release:
"Delicious, really excellent, I'm certain that Joni would enjoy this wonderfully heartfelt version of her classic song."
The string arrangement, the harmonies, and Heather's spot-on lead singing breathes new life into the song for this generation.
All five songs on the EP are gorgeously executed, and now we want to know, when's the tour, where are you guys playing together? To find out the answers to these questions, and to purchase the EP, visit their websites. You can find Darlingside at: darlingside.com, and Heather at: heathermaloney.com.
Kim lives in Maine, which is lovely, and where she continues her enthusiastic relationship with Art, Music, Nature, Books, Animals, Humor and Trees.