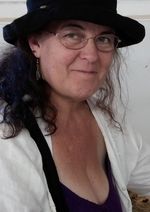 I find myself frequently saying, "That was the best concert I've ever been to" – and I mean it every time I say it. So I say it again! Why was it the best concert, you might wonder? I had never seen Dar Williams before, in fact, I really haven't followed her music, but I've had kind of a sixth sense knowing that she is a special singer/songwriter. Dar gets the vast complications of growing up human and she has a gift for turning that cognition into music. That's why the concert was so good. It wasn't just listening to some songs. With certain gifted musicians, concerts become a place of healing.
I own one of Dar's CDs called "The Honesty Room." The song, "When I Was A Boy," stabbed me in the soul, because when I was a girl, I was a thorough, one hundred percent tomboy. When I first heard that song, I thought that not only does someone understand me, but they figured out how to explain my childhood. It is a huge gift to be able to create music like that, and as a listener, wonderful to be understood. It starts:
"I won't forget when Peter Pan came to my house
took my hand
I said I was a boy
I'm glad he didn't check."
and,
"I was a kid that you would like
just a small boy on her bike
Riding topless
yeah, I never cared who saw.
My neighbor came outside to say,
'Get your shirt,'
I said 'No way, it's the last time,
I'm not breaking any law.'"
The night of the concert I was there for the second show, which involved standing outside of One Longfellow Square in the cold for a half hour before they finally opened the door. Fortunately it wasn't precipitating even though it had been earlier. Everyone was merrily and politely chatting, so the time passed quickly. When they let us in, the thought occurred to me that I was glad that we don't live in a place where people stampede and kill others to get a good seat!
I sat a couple of rows from the front, and soon the very calm and sweet presence of Kat Goldman took the stage. She has a quiet, sincere persona. She sang her first tune called "Red Canoe," in a lovely husky, Shawn Colvin-ish voice. There was a little Irish trill in some of the notes. I was completely drawn in.
She explained that she had moved to Boston from Toronto, to go back to school, to study "literature," and she talked a little bit about that. She sang "Just a Walk Tonight," about observing the neighborhoods of Boston and landmarks such as where Mother Goose was laid to rest. Kat has a shy smile and sang only a few songs, but her voice was sweet and sure, and each one carried an element of depth.
Her song "Annabel," which was covered by the great Canadian band, the Duhks, was written about her deceased grandmother. It has the line:
"I've looked low and I've looked high
tell me where does the spirit go when you die?"
She also playfully talked about a dream she once had to become a rock star, except that it would be so expensive – she had an understated sense of humor. She then performed "Traveling Band."
Later in the show, Dar called her back up to sing a duet of Kat's jewel of a composition, "Weight of the World."
"You want to take it off
It's the weight of the world
You want to set it free
Just for today
You can't always be the one
to heal everything
and the weight of the world
was never yours to keep."
This song made my tears flow.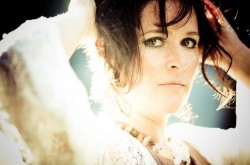 I spoke to Kat after the show and told her I thought that "The Weight of the World" was beautiful and that I'd like it to be played at my funeral. She told me that she wrote it after watching the movie, "The Green Mile." It came out all at once in just a few minutes. I love those art begets art stories.
I always thought Dar Williams looked as if she could be the sister of the actress, Laura Linney. They have dueling dimples. Dar looked great in a black dress and leather boots – quite the lady. She was accompanied by jazz musician, Bryn Roberts, who backed her up with piano, organ and harmonies.
She's an observant and deep-feeling woman who distills the scenes of her life through poetry, voice and music. Her voice is powerful, elastic and emotional. She's also a funny story teller, telling us about how amazing it was to finally achieve a five-figure income after years of being in the four-figure bracket. She said, "We're talking twenty-five thousand dollars!" Once you reach that level, you might splurge and buy a new yoga mat, or taller candles. Conflict about materialism was the theme in the 'cautionary tale' of the song "Spring Street." The lyrics are poetry:
"So April had a blizzard just to show she did not care
and the new dead leaves made the trees look like children with gray hair."
In the song "If I Wrote You," she tells the one that she longs to be intimate with that:
"If I wrote you
you would know me
and you would not write me again"
"I've Been Around the World" is a love song about family and work and relationships, and what really has meaning. This song made me sob:
"That I know I am not alone in you
and I know you're the one I can tell my stories to
I have been around the world
there's so much there to see
and the story never ends
you're all the world to me."
and,
"When I walk through the door
I look for you/you're all I'm looking for
and it's truer now than it's ever been
I'm the lucky one that love has taken in
I have been around the world from sea to shining sea
I wish that you were here.
You're all the world to me."
"Buzzer" is about the Yale Milgram Obedience Experiments. It illustrates what people may be willing to do for money, and what they might do if they don't have to take ultimate responsibility for their actions.
The last song was a tribute to Pete Seeger who died last week. Dar was Pete's neighbor. She watched him taking his own garbage to the curb when he was an old man. She sang with him on many stages, supporting many causes. She had been a visitor at his simply furnished home – he was a down-to-earth kind of guy. Because there frequently are children at her shows, she tends to watch her language, but she was glad to relate to us that Pete had once said that he "didn't give a shit about his career!" He was a believer in Utah Phillips' adage, "Make a living, not a killing."
She asked us to join her in singing the finale, "If I Had a Hammer." A woman named Elly Chase joined them on stage with her cello. I belted out the harmonies I knew from my solar plexus – singing to Pete, to freedom and to the song about you and me, all over this land.
Dar ended by saying with a smile, "I heard the harmonies! But this is Portland, not NY." I went home flying – I stayed up half the night thinking about the concert. It was in my dreams, it was on my pillow when I woke up, it's been with me all day. Thank you, sweet women of Music.
For more information, visit darwilliams.com, and katgoldmanmusic.com.
Photo of Dar Williams by Amy Dickerson, Photo of Kat Goldman used with permission
For music lovers visiting Portland, Maine, I highly recommend
One Longfellow Square ~ "Portland's Premier Arts Venue"
Check them out at
onelongfellowsquare.com
.
Kim lives in Maine, which is lovely, and where she continues her enthusiastic relationship with Art, Music, Nature, Books, Animals, Humor and Trees.