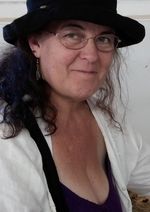 Recently I was standing in my kitchen cooking, while listening to the radio. A rendition of "Variations on a Theme" by Erik Satie, otherwise entitled "Gymnopedie No.1", began to play. A feeling of stillness fell over me as I stopped and listened to its simplicity.
I first heard this piece when I was thirteen. My friend, Ned Richmond, taught me how to play a simple, two chord progression over and over on my guitar, while he played the melody on his. I wasn't much of a guitar player, and I had never played a duet with anyone before. I was thrilled by the reverie of playing music with him. Later, he taught me the chords to the Blind Faith songs, "In the Presence of the Lord" and "Can't Find My Way Home". He also taught me a zany song called "Dog Breath", by Frank Zappa and the Mothers of Invention. Some of the outstanding lyrics of that magnum opus were as follows:
"Cucuroo carucha (Chevy '39)
Going to El Monte Legion Stadium
Pick up on my weesa (she is so divine)
Helps me stealing hub caps
Wasted all the time

Fuzzy Dice
Bongos in the back
My ship of love is
Ready to attack"
Our families vacationed together. We sat opposite each other on wooden swings under pine trees. He had longish, brown hair, parted on the side that fell in his face while he looked down and played. I thought he was gorgeous. He was seventeen, and the son of my father's best friend. We went to Cape Cod every summer. My heart flip-flopped in his presence like Tito Puente's conga drums. I was smitten, but I knew I was more like a little sister to him. Every summer I witnessed him meet girls who were older and prettier than me. I endured emotional torture as I watched him engage in little romances with the anointed maidens of summer, vacationing with their families. There was a sauna with a porch and a long dock on the lake. The kids gathered there in the evenings to listen to the radio, swim, catch bullfrogs, and have fun.
My earliest memory of him was during a picnic shared by our families. He had an older sister named Kathleen. She affectionately called him, "Ro", short for Rodent. He was nine. I was five. As corny as it sounds, I fell in love at first sight. He was a slim and sturdy, brown-haired boy dressed in swimming trunks. He impressed me by sucking in his stomach muscles as hard as possible so that his belly went concave and ribby. He posed with arms in the classic muscleman posture, fists above his shoulders, with a roguish grin on his face.
Our fathers were best friends in high school, and served in the navy together. They kept in touch over the years, and our mothers became close friends as well. His mother, Ruth, was petite and Irish, with a Long Island accent and a playful sense of humor. I was fascinated that she smoked cigarettes. My mother didn't. I asked her why she smoked. She just said that I shouldn't start, because she wished that she hadn't.
In 1965 we began to share family vacations. Our parents chose a charming place called White Pond Cottages, on Cape Cod. Our mothers shopped in gift shops and tourist traps. Our dads fished. All we wanted to do was swim, laugh and play music. It was heaven.
One night when I was ten or eleven, Ned and I walked in the woods around the pond with a flashlight, looking for bullfrogs. It was so dark that he held my hand so that I wouldn't get lost or fall down. I remember the sensation of his hand holding mine, and the intensity of the thrill I felt. My heart pounded and I actually felt weak in the knees.
After the summer, I wrote impassioned letters to Ned's mother, planning our marriage, discussing how many children we would have, and how many we would adopt. I was determined that he was the one I was waiting for. I saved my allowance money to buy him special gifts for Christmas. I got him cool things that I thought he would appreciate. Once it was a rubber chicken; another time it was plastic vomit.
The Beach Boys somehow found out how I felt about him and wrote two songs, which expressed my love: "Wouldn't It Be Nice" and "God Only Knows."
When those two songs came on the radio, I tried to transmit the love to Ned mentally. Of course, either he never knew, or he knew and wasn't interested. Even though I thought that it was hopeless, it was nice to have a place to direct my love. I wrote to his mother asking for an article of his clothing to have, and she sent me one of his old basketball jerseys. It was extraordinary the way she respected my feelings. She didn't make fun of me.
The last time I saw Ned, I was fifteen and he was nineteen. That summer, our families went to Wolfeboro, New Hampshire. The song, "In the Summertime", by Mungo Jerry, was popular. We drove around Wolfeboro eating ice cream and listening to the radio, singing at the top of our lungs. I knew he had a girlfriend back on Long Island, but somehow our relationship had shifted and we were buddies. I still pined for him, but I was content to just be in his presence. He was in college after that and we sometimes wrote to each other.
In 1975, when I was twenty, I moved to California with a friend. One day my mom called, saying that Ned had died. The details were vague and I still don't really know what happened. It seemed to be self inflicted -- involving a car and carbon monoxide poisoning. I believe that he was hurt by a girl. I never really heard a clear explanation about the details. I was stunned.
I've thought of him hundreds of times over the years. Wondering what happened. Why it happened. Never realizing what a sensitive soul he had, and how hopeless he must have been to take his own life. My parents told me that his parents were devastated by his death. He was a beautiful young man, twenty-four years old – talented, intelligent, funny and adorable.
I learned from that event that the ripples from the death of someone we love never end. I still want to know what happened. I think of him from time to time with profound affection. He has been in my prayers many times. I want to see him again someday. I want to know what happened. Maybe he can show me how to play that Erik Satie piece again. That would be wonderful.
This song still seems apropos:
From, "God Only Knows" (Beach Boys)
"I may not always love you
But long as there are stars above you
You never need to doubt it
I'll make you so sure about it
God only knows what I'd be without you"
Kim lives in Maine, which is lovely, and where she continues her enthusiastic relationship with Art, Music, Nature, Books, Animals, Humor and Trees.