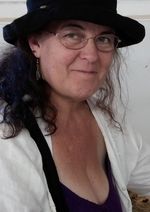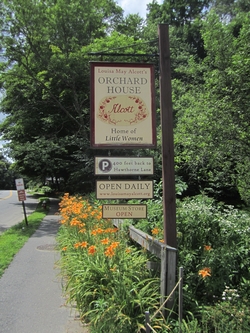 Peter and I recently drove to Concord, Massachusetts, where we visited Orchard House, one of the homes where Louisa May Alcott grew up. Alcott's most famous book, Little Women, was loosely based on true stories of her life there with her parents and three sisters, Anna, Lizzie and May.
Louisa May's father, Bronson Alcott, founded – and reluctantly closed – numerous schools supporting his transcendentalist ideas. He tried innovations such as giving children time for recess and allowing them to ask questions in class.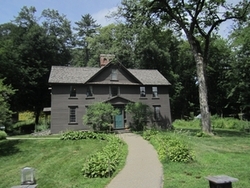 Being so ahead of his time resulted in appalled parents pulling their children from the schools, and the Alcott family having to move somewhere else and try again. They moved twenty-eight times. Despite that, they still managed to live at Orchard House for twenty years.
Ms. Alcott was able to partially vindicate her father's progressive ideas about education, by having her characters Jo March, and scholarly husband, Friedrich Bhaer incorporate his methods in their Plumfield School.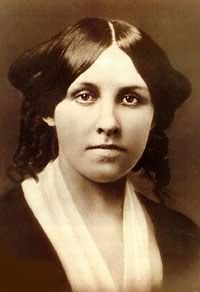 I've seen three film versions of Little Women and have read the book many times. Katherine Hepburn, June Allyson and Winona Ryder all played Jo March, the character patterned after Alcott. Jo was a powerful character – she was a writer, a director/actor in home theater productions, and longed to join her father on the front-line with the Union army during the Civil War. She eschewed traditional women's duties in favor of courageous adventures. I strongly identified with Jo as a child, and felt a deep reverence for the world Ms. Alcott created with her books about the March family. Thus, I was nearly moved to tears when we parked our vehicle in front of Orchard House. I felt that we were visiting sacred ground.
After touring the house that day, I knelt down near a young apple tree and took a pinch of dirt from the ground. Round my neck I wear a small glass vial on a string that has a tiny space inside that unscrews and can hold a teeny amount of something, such as sand or powder. I placed the bit of soil in it and began to wear it as a sort of talisman around my neck.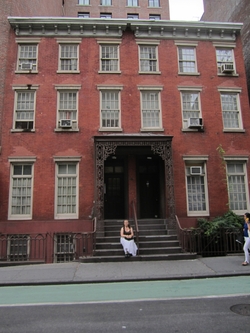 A week passed, and then an odd occurrence transpired. We were in New York City on business. Before leaving the city we decided to take a cab to Greenwich Village for a quick breakfast but we had no idea where to go. I searched on the Internet to find a good place. The Cafe Reggio, which opened in 1927 on MacDougal Street, was highly rated with stars and raves on Trip Advisor. It claimed to have served the first cappuccino in New York City too! (By the way, if you're ever in a position to eat there, we highly recommend the Norwegian Eggs Benedictine with smoked salmon, or the Cafe Reggio Crepes with spinach and three-cheese filling. Delightful!)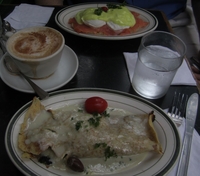 Ironically, directly across the street from the cafe is a brownstone at 130-132 MacDougal Street that was once owned by the uncle of Louisa May Alcott. She lived there in 1868, and used to sit at one of the windows writing. Legend has it that she finished writing Little Women there.
Before breakfast, I sat on the steps of the brownstone, struck by the co-incidence – that we had visited Orchard House only seven days before, and now here we were in front of another significant home where Louisa May dwelt. I was intrigued by the juxtaposition of events, and wondered if it meant something. Perhaps the message was: 'to write'.
I have long admired Ms. Alcott and am glad that she took the time to write her books and verse. I noted that she was younger than I am now when she died.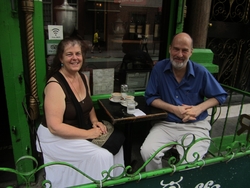 How many people benefit when someone called to art fulfills their calling? The world has been evolving since she lived and died, but despite that, her books and their emotional impact on millions has been profound. Our lives seem like the wink of an eye, but how much can we accomplish in that wink if we will?
Image(s) from Wikimedia Commons
Image of Louisa May Alcott, Public Domain
Other photographs by Peter and Kim Brown
Kim lives in Maine, which is lovely, and where she continues her enthusiastic relationship with Art, Music, Nature, Books, Animals, Humor and Trees.