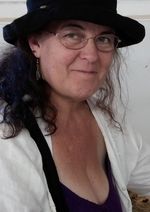 It was a warm, sunny morning, and the gnats eagerly buzzed around our heads, attempting to lodge themselves in our teeth and eyeballs. My son, Tymon, (who was 11 at the time) and I were sitting in a forest green kayak, practicing our paddling technique. We were about a dozen homeschool families making unintentional circles with our kayaks, looking from above like a group of confused dragonflies.
Jay, the fit, bright-spirited proprietor of Tidewater Expeditions, is also a homeschool parent. He blew a real conch shell to get everyone's attention and our motley crew clustered around him as he led the way on our homeschool group's bi-annual kayak excursion.
Tymon and I fell into a beautiful, rhythmic paddling, marveling at the speed we got using our arms and shoulders. I thought, I am Pocahontas, Sacajawea, and Princess Tiger Lily. I could feel the lure of the physical fitness one could attain by doing this every day. My inner mantra continued; I am Demi Moore doing a one handed pushup. I am Jane Fonda. I have blisters on my hands and now I'm tired. Does this thing have an outboard?
As we paddled into the deep blue Assateague inlet, a bird would sometimes dive down and touch Jay's paddle. He said that after months of taking out expeditions, certain birds knew and greeted him. I hoped that he didn't also know sharks that might rise up out of the water and bite chunks from our kayaks in greeting too. We timidly asked if there were sharks in these parts and he replied that a small aggressive type sometimes entered the island waters, but not in the area where we were. We peered into the murky depths, loath to dangle our fingers and tempt fate.
Tidewater Expeditions is on the island village of Chincoteague, which faces directly across the inlet from the National Wildlife Refuge of Assateague island. The islands are at the northern end of Virginia's eastern shore near the Maryland border, and are the home of the wild ponies made famous by the "Misty of Chincoteague" series of children's books, by Marguerite Henry.
As we paddled we saw all kinds of birds perched on various posts and pilings. There were a variety of seagulls, ducks and geese, pelicans, cranes, egrets and herons. Neighborhoods of vertical stakes were fixed in the water, which Jay explained were there to keep the sting rays out of the oyster beds where they would feed if given the chance. Sting rays? Another reason to keep our fingers in the boat! (I made a call to the Virginia Marine Science Museum about the rays, and a scientist there told me that cow nose rays travel by the millions up the Chesapeake Bay eating everything in sight. She also told me that rays have personalities like puppies and will rub against scuba divers seeking attention. How about that!)
Jay added that at the ocean end of Assateague, friendly sea turtles could sometimes be seen. If one had an ocean kayak (the type that can't get swamped) one could paddle among them. One could go from being Sacajawea to Jacques Cousteau. This place was definitely cool.
We were eager to see the wild ponies. The ponies on Assateague island are protected by federal law, but the local herd (numbering in the hundreds) is owned by the Chincoteague fire department. Every summer they herd the ponies on Assateague and swim them to Chincoteague across the very inlet we were paddling. Then they have the annual pony auction. It's a big to-do, drawing thousands of visitors to the islands every July.
We beached our kayaks on the Assateague shore, hoping to finally see the wild ponies. Where were the prancing herds, throwing their tangled manes as they galloped? Where was the deep grass, rippling on the hillsides? Where was Misty? When could I offer a wild stallion a handful of oats, and ride bareback with my arms outstretched along the pounding surf, like in "The Black Stallion"? I thought seeing the ponies would be like a moment from the Dylan Thomas poem, "Fern Hill" -- when Adam and maiden walked in the pebbles of the holy stream, beneath the new made clouds.
But only a half dozen ponies could be seen in the distance. They were grazing under some trees, about a mile away, hardly visible. We called, "Here ponies, here ponies!" They didn't show the slightest sign that they cared that we were alive.
The beach was scruffy and the grass they nibbled looked dry and sparse. I wondered how they survived in such a rugged place. After pointing and straining through binoculars to see them, we skipped a few oyster shells across the water. Then we drank water from plastic bottles, nibbled cookies and climbed back into our kayaks for the return voyage.
On the way back a little girl in another kayak was shouting insults at my son who shouted insults back at her. "You like Brittany Spiers!" (a singer) she accused. "I do not! YOU like her." This happened a few times until Tymon was conscience stricken, and then he called her to paddle alongside us and gave her a cookie. All was Eden again.
We stayed fairly close together as a group on the water, sharing our reasons for homeschooling with Jay and the other families. I didn't get a chance to ride a wild pony that day, but it sure was lovely spending time in creation with my son. Maybe someday we'll come back to attempt a swim with the sea turtles. I wonder if sea turtles swim near sharks.
Kim lives in Maine, which is lovely, and where she continues her enthusiastic relationship with Art, Music, Nature, Books, Animals, Humor and Trees.