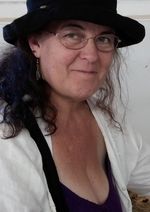 On my 44th birthday we piled in the van with the kids and drove across the Chesapeake Bay Bridge to have a day exploring the eastern shore of Virginia. It is eerily separate from the rest of the state, and has stayed remarkably undeveloped. The $20. round trip toll is inhibiting to the casual day tripper. Though it seems to be frozen in time several decades back, there is a certain comfort in seeing an area where the sprawl of ugly apartment houses, housing developments and franchises haven't blighted the landscape.
Our local newspaper ran a fascinating series about some of the villages which prospered on oysters and flounder fishing in decades gone by. Hurricanes and weather have shifted the barrier islands along the eastern side, recreating the land mass again and again. Peter and I once sniffed to ourselves, why didn't they build the road along the coast so you can see the ocean? Gee, these east coast highway builders have no imagination, you can't see anything. Why don't they build roads like Highway One in California where you can see the ocean all the way down the coast? (Well Miss Smarty Pants, maybe in California they don't have beach erosion like we do here. Maybe they have rocky cliffs instead!)
Anyway, we took roads off the beaten path and stopped in little towns like Wachapreague where we found starfish on the docks. The towns were rustic and cute - clusters of large houses and sidewalks, a few little stores and a dock area. I wondered what it would be like to live in one of these little havens - to gaze out my window at the flocks of birds - to fish under a starry sky - to let the doggie I don't own yet run free in the fields that don't belong to me either! But then, there's no Barnes and Noble, no Starbucks, no Blockbuster Video -- and not even - gasp -- 7-11!
We investigated some of the towns until we reached the village of Chincoteague. We drove over the bridge to the National Wildlife Refuge island of Assateague where the famous wild ponies live.
There's a loop which encircles part of the island where brackish waterways rise and recede with the tide. Being January, thousands of migrating birds were wintering on this protected place. LL Bean-clad hikers carrying expensive looking tripods and cameras were set up shooting photos. Driving the wildlife loop at 10 mph we circled around Assateague through a forest of stripped, beetle-ravaged trees. It was an Audobon convention --- flocks of unimaginable birds were lifting off in circles and settling down again, squawking and shrieking, back slapping, and wing flapping, crass and rude as a crowd of pushy, network marketers.
We finally located a hiking trail which promised close up views of the ponies. It was an unseasonably warm January day. We parked our van and set out on the trail which looked short on the map, but as twilight fell, seemed never ending. The woods were a tangle of tall grass, vines, and mysterious trees. As we looked for wild ponies (occasionally nearly stepping in their plentiful droppings) the children saw a group of deer staring at us. They yelled, "Mommy, Daddy look!" and the deer bolted, flashing their white tails. The thrill kept us going as it got darker and colder. The day had been in the seventies and we were wearing shorts and T-shirts. We followed signs to a little wooden overlook where we could see ponies grazing in distant fields. None seemed to be close by us at the moment, which was just as well. Posted signs warned that the ponies were not to be approached because they were wild and had been known to bite and kick.
As the time passed I wondered if we had taken a wrong turn and if we should turn back and retrace our steps. The children all wanted to be carried by this time and were starting to whimper. Why didn't we bring a knapsack with water and snacks? Why didn't we bring our jackets from the van? I started to imagine what would happen if it got totally dark. We would be lost, and would have to huddle together all night. We would be attacked by a pack of wolves and our remains would be discovered by park rangers the next day. All right, I knew there were no wolves on the island. Maybe cottonmouth snakes would get us. The day had been warm. Or black widow spiders. They were known to live in wooded areas. The sign said the ponies were dangerous. What if they found us and then bit and kicked us to death? The cold and hungry mind travels to strange places.
I knew if it got completely dark we couldn't keep walking because we wouldn't be able to see the trail. Peter wasn't worried in the slightest. He was completely confident that we were going in the right direction, and that we were on the verge of completing our journey. My heart rate was actually accelerating, just as we came in sight of the van in the waning light.
In the winter, Chincoteague is almost a ghost town, but we found a little restaurant and had a nice seafood dinner. I was so grateful to be able to feed my children and to layer them with the extra clothes we had in the van. When things all work out for the best, I can't help but think about the reality of the suffering of others in other parts of the world, and how shamefully easy it is in America to remedy the little hardships we go through. A humble prayer of thanks was offered up on the long ride home.
Kim lives in Maine, which is lovely, and where she continues her enthusiastic relationship with Art, Music, Nature, Books, Animals, Humor and Trees.