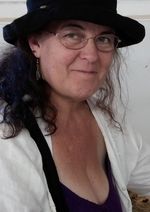 We have two cats, Rupert and Minerva. Rupert is gigantic and lovable, Minerva is schizophrenic and hides. Rupert is descended from Romans -- he eats lying down, draping himself around the bowl as if it were the body of a zebra. He wraps himself around Peter's head on the pillow in the morning like a coonskin cap and vainly tries to bite the head of an unwilling groomee.
Minerva, (aka Minervous) is wide eyed and paranoid. My husband calls her "Psychotica". We sing a little song to her sometimes: "Minnie Nerva, Minnie Nerva, President of Nervous Land." Her eyes are so large there is little room left in her skull for a brain When we try to hold her, she tenses, eyes bulging and claws extended. Once, when we moved, she badly scratched Peter and Gracie's hands when they carried her out to the UHAUL truck in their bare hands. (BAD IDEA!!!) She gouged and gashed Peter's forearms leaving scars that resembled a suicide attempt. Then she ran away. In the middle of the moving day, Peter and Gracie had to go to the emergency room for antibiotics!
The argument in favor of dogs is that they dance and wiggle and express their devotion without subtlety. They wee on you. They yodel. They choke themselves straining to get to you. They love you when you haven't bathed or brushed your teeth. You can't go away for the day or for a vacation without elaborate arrangements for them, but the emotional return is worth it.
Peter and I both had good dog experiences when we were children. Peter had his Golden Retriever, Robin, who barked at seagulls, and I had my Springer Spaniel, Clementine, who barked at rocks.
Over the years, our kids have asked us repeatedly for a puppy. We read the books by the Monks of New Skete. New Skete, New York, is the location of a Catholic monastery that supports itself by raising German Shepherd Pups. These guys go the distance. They study and observe and take notes on their puppies' personalities and know each dog intimately before they release them to prospective owners. They match puppy to owner using scientific data. I don't know what the customers pay for those puppies but they have testimonies from people like Maurice Sendak and other famous folk who swear by their precision. They leave no bone unturned.
We agonized trying to find the right dog. We looked at websites, want ads, wandered pet stores. None of them seemed right for us either because of price or disposition. We were about to give up when we decided to go to Doggie Death Row: - Animal Control. There, waiting in a little jail cell was a small, long haired, bronze colored, Benji-faced terrier mix. He looked at me. I looked at him. We sniffed noses through the cage. We wagged our tails. I put my name on a waiting list - we were the third family who wanted him. I never thought we'd get him. Then on December 23, 2000, they called and asked us if we still wanted him. The whole family went down and sprung him from jail. He wetted everything in sight and willingly came with us. We were trying to think of a name of distinction. Einstein. Michaelangelo. Rembrandt. Galileo. Mickey Rooney. Mozart. Free Willie -- our youngest's suggestion. Then we thought of BOGART! Which was immediately shortened to Bogey. Or Bogumfee
Bogey is the perfect dog for our family. Loyal, humorous, energetic, protective, he lies on the end of our bed at night, facing the would-be intruders. I see a silly, boyish side in my husband that emerges when he plays with the dog. My kids roll around on the floor with him. I call him my fifth son. When I think of God's creations, I am grateful He thought of the dog. From the cornchip smell of his soft paws, to his feather duster front legs, to his malted milk ball brown eyes, he has become an essential and irreplaceable family member.
Bogey has a healthy respect for Rupert who basically ignores him, aside from slapping him on the face with his claws now and then. Minnie flees in terror every time she sees him, which reinforces in him the thrill of the chase.
I ask myself, what is it about animals that brings so much comfort and pleasure to some of us humans? I have friends that don't have the animal connection and I cannot fathom it. For me, their furry faces and their demeanor provide much comfort. The guiltless sleep of cats brings calm to my hectic life. The dog's loyal devotion reminds me of my value when the infrastructure of work and economics are falling down all around.
In my book, the only downside to having pets is policing the yard for doggie muffins, and maintaining the cat litter box. If we could train them to use the toilet for a purpose other than drinking, all the negatives would be licked!
[Two days after this column was written, our beloved cat, Rupert, was found dead in our cornfield, killed by an animal. We profoundly grieve his death.]
Kim lives in Maine, which is lovely, and where she continues her enthusiastic relationship with Art, Music, Nature, Books, Animals, Humor and Trees.