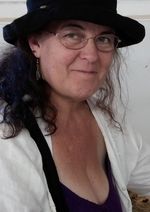 I was driving on Indian River Rd., not far from the Kempsville intersection, when a redtail hawk landed on the top of a streetlamp as I passed. The dramatic flurry of wings was an unexpected sight in noon time traffic and caused to me to do a double take, fairly risking a fender bender. I wondered at his presence in this thickly populated part of town, and thought perhaps he had flown in from Stumpy Lake.
The natural havens of wildlife are steadily shrinking in this growing metropolis. When our family first moved to Virginia Beach five years ago, I loved driving to Sandbridge or Pungo because this town was a green, little gem. There were farm houses, crops growing and horses grazing along the quiet country roads. It had a small town feeling with city conveniences.
But now signs have appeared in countless wooded lots -- 50 Acres Zoned for Industry, This Site Available for Commercial Development, or Monopoly Estates Subdivision Coming Soon!
My daughter and I went biking at Back Bay Wildlife Refuge a few nights ago. We arrived at twilight and saw several deer munching in the waist high grass. We biked over a wooden boardwalk and attempted to ride on the beach though our tires sank in the soft sand. Turning back we saw a red fox enjoying the view of the ocean, unbothered by our appearance.
In the waning rays of daylight we saw a little snake basking on the sidewalk, and we giggled when we startled a bullfrog who let out a silly little scream when we surprised him. Driving out of the park we saw a doe and four fawns standing in the underbrush by the road side, watching us exit. All this in a one hour visit.
We sent up a little prayer thanking whoever it was that had the foresight to protect these dunes and habitat from thoughtless development and ruin. Backroads all over Virginia Beach are being routinely widened, and new construction is popping up everywhere - large houses, crowded together in treeless blocks, with pretty names attempting to veil their banal appearance.
There used to be a gorgeous chunk of woods along Virginia Beach Blvd. near the Barnes and Noble bookstore. I loved to see the cool gathering of trees while driving past the otherwise concrete and billboard strip. This week I glanced to my left and nearly caused another fender bender when I saw a bulldozer sitting in the midst of treeless ruin. I wondered why a swatch of woods can't remain between shopping centers for the sake of beauty. I wondered where the animals went who had lived there. I wished the beauty of nature was a priority.
I wonder what Manhattan Island used to look like. I wonder what Virginia Beach will look like in ten years. I think I will have to move by then because I won't be able to stand it.
Kim lives in Maine, which is lovely, and where she continues her enthusiastic relationship with Art, Music, Nature, Books, Animals, Humor and Trees.