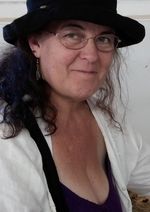 One night when I was seventeen, my mother came up the stairs to my room after she had watched the movie, "I Remember Mama", on TV. She cried and put her arms around me and said, "I hope you remember me, Kim."
"Of course I'll remember you. I love you. You're my mom," I said, as I returned her embrace. I was a little shocked, but now, from the vantage point of being over forty, I understand her. She was in her early fifties at the time, and I think she was looking into the precipice of her own mortality. She looked so sad as she said, "Your father and I only have about fifteen years left." I think it was the first time she ever made herself totally vulnerable in front of me. She died of cancer about ten years after that, at the age of 61. There are no words to describe how much I miss her.
One of the places where the rubber hits the road, so to speak, when one's parents are deceased, is not being able to share one's children with them. There are so many anecdotes I want to tell my mom and dad that would make them laugh or cry. Other times I would love to know what their thoughts and experiences were in different situations.
When we grow up, we can finally appreciate what difficulties our parents suffered in raising us. Life turns full circle. Ideally by then, parents and children should be able to relate on the same level. When I think about my parents now, it seems that most of the painful memories tend to settle on the bottom like silt in a pond. The happy memories outshine everything else.
I am fortunate enough to have been raised in a home with a lot of affection and laughter. We were very expressive both in a positive and negative sense. My dad was a navy veteran with a sailor's vocabulary. He salted the atmosphere of our home whenever the short fuse of his temper was lit, which happened almost every day. When I think of him now, I try to remember that his mother died when he was about five years old, and he was raised by grandparents who weren't very thrilled to have him. His primary childhood memory was being served the turkey neck on Thanksgiving.
He was rather inarticulate, like many men, and found it difficult to discuss his feelings with anyone but my mother. But he was always there, punctual, dependable, and funny. We were very close when I was little. He read to me and held me on his lap and took me with him places. When I became a teenager we didn't relate well anymore. I needed to communicate about the details of life more, and he was limited in his ability to respond.
My mom was a woman without enemies. She had a sunny, sympathetic nature and took a compassionate view of things. She was always saying, "You love your friends in spite of their faults," and "Maybe the reason that that person is crabby is because they had a rotten life and it colors their viewpoint about everything," and "It's not worth it to fight. Kill 'em with kindness." My mom was the kind of mother that other kids liked. I have numerous memories of sitting at the kitchen table with my friends and my mom, talking about life. She made friends everywhere she went and corresponded with all of them whenever we moved. She choked the post office at Christmas time with the amount of cards she sent (complete with personal notes!). She also had a beautiful smile.
We lived in the country in upstate NY when I was a child. My parents were big nature lovers -- they subscribed to all the conservation magazines and watched nature shows on TV. They knew the names of all the birds that fed at our numerous feeders and birdbaths. "Look Fen, it's a Downy Woodpecker!" "Look Iris, it's an Evening Grosbeak!" We took many hikes in the woods and I was emphatically taught to "Shut up when you're walking in the woods and you might see something!"
Going on vacation to Cape Cod was probably the best fun with my parents. Something about the texture of vacation was good for them and imbued them with good humor. Real blueberry pancakes on a picnic table under the pine cones, sand under our bare toes, the slap of water against the boats and docks, all seemed to irradicate their stress. We met with the same family every summer. Ed was my dad's childhood buddy from"Hungry Hill", the Irish section of Springfield Massachusetts. His wife, Ruth, was a freelance writer and they had a son, Ned, who was four years older than me.
Everybody was a comedian in their own right, so there was a lot of chuckling and needling and friendly teasing. My dad and Ed both worked for insurance companies. They would go fishing and talk about the fish or about insurance, and were generally boring to listen to. My mother caught up on all the latest news with Ruth, and they invited me to listen in. At home Ruth did yoga in her spare time, or went to her friend Olive's antique shop where they pushed around a Ouija board. Ruth told kooky anecdotes, reminisced with my mom, and shared a hilarious running commentary on her relatives.
We played cards, or listened to the bullfrogs in the evening, or drove to the ocean which was a short trip from the small lake resort. The time was cozy and sweet with no sense of worry or agitation.
Everyone has memories of their childhood -- some are beautiful and some are sad. My family was very emotional, and my parents yelled at me a lot when I was growing up. When I transformed into an archetypal, smart-aleck-brand-teenager, I mocked my parents when they yelled at me and then they slapped me silly. Those memories are painful. Despite their mistakes I know they tried to love me and tried to do the right thing. I am certain of that, because all I feel when I think of them now, is how much I miss them.
My older brother called me one New Year's Eve a couple of years ago. I could tell that his tonsils were well-oiled, as my father used to say, because his speech was slurry and he was very sentimental. "You remember that birthday party when I was 10 years old, and you were all singing Happy Birthday to me? I remember feeling so happy and all that love washing over me -- you remember that? You remember that?" (I was 3 at the time, so I didn't really remember.) He got choked up and the conversation moved on, but I thought about it later.
My brother and my father didn't get along. He left home and joined the army when he was 18 (I was 11 then), and then he only saw my parents twice after that before they died. There was a lot of unresolved pain on both sides. After that conversation, I realized that my brother's good memories were rising to the surface of his heart. The misunderstanding and the James Dean "Rebel Without a Cause" debris was subsiding. He wanted to remember the love. The rest of it didn't matter anymore.
I love the fact that God gave humanity this quality. Once we forgive the past and let go of the pain, the "real stuff" distills and rises to the top. Sometimes I've heard old people speak about their childhood. They remember the way their mother looked making dinner, and what the whole family was like as they sat down for a meal. They might be the last remaining member of their family, but the essence of those moments remain, suspended in time. A soldier dying on a battlefield calls out for his mother, his inmost-self gravitating to the one who loved him the most.
Peter and I spend hours talking about how to raise our children. The thing we tell them more than anything, that applies to almost every situation, is what Peter calls the "rule of heart." "Never make anyone sad, and always make other people happy. Treat people better than you want to be treated." It's so basic, but it says it all. I want my children to grow up with warm hearts toward others, and the ability to laugh in the face of gloom.
The challenge parents face is that there are a multitude of mistakes we can make while parenting, and they are hard to foresee until you're in the saddle. I feel like I'm winging it a lot of the time, but I believe that prayer and the determination to never stop trying are vital components for success.
Family closeness also requires family fun. Belly laughs together, smiling into the eyes of our children -- and our children smiling back at us, all build a sense of closeness. We can love our children, but how great it is if we like them too! Beyond loving them, do we respect them and the gifts they bring to the mix? I just read an interview with Goldie Hawn in a women's magazine. One of her children said they laughed more and had more fun at home than anywhere else. Creating a home filled with laughter and joy is a wonderful legacy to pass on to our children. Creating that legacy requires more than a dose of humor -- naturally!
Kim lives in Maine, which is lovely, and where she continues her enthusiastic relationship with Art, Music, Nature, Books, Animals, Humor and Trees.