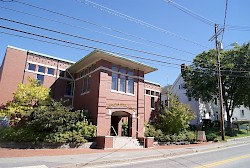 Peter and I love books. It's an addiction. Whenever we go out for the day, if we see a second hand book store we have to stop. In Maine there are temptations everywhere. Many towns have second hand book shops affiliated with their libraries. There's a great one in Boothbay Harbor, and this past weekend we visited the one in Damariscotta. That's pronounced, "Dam-er-scotta". But if you really want to get picky, the name is based on an Algonquin word, "Madamescontee" which means, "place of abundant alewives." These are not small drunken Irish women. It's a type of lake fish. The town is built right on the edge of Damariscotta Lake.
It is one of the cutest villages you can imagine, with a narrow downtown street lined with curious little shops, restaurants, a little post office with murals painted on the walls that seem to have been lifted from early issues of the LL Bean catalog, and a venue for live theater performance called The Lincoln Theater, which also shows films.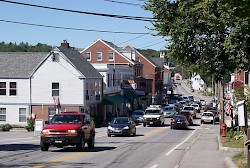 In the 1800s, a literary club was founded in Damariscotta, which later created the library. The members coined the name "Skidompha" based on the letters of the names of the founders. You can read about that on their website: skidomphalibrary.org/asp.
Peter and I never really know what we're going to find when we're out and about. This visit to the Skimdompha Second Hand Book Shop resulted in the purchase of about 15 books – among them was a volume written by Aldous Huxley about his use of mescaline and his ensuing experiences; a volume of essays written by moderate Muslims decrying the current armed jihadist mentality; the book by Cheryl Strayed upon which the recent Reese Witherspoon movie, Wild, was based; and others.
When we entered the front door of the pleasantly spaced and well-lit store, four people were sitting on chairs around the front desk having an animated discussion. They greeted us, but went back to their chat which covered topics such as the Vietnam War, current politics, books, art, and the afterlife.
It was such a wonderful feeling to be in a small town, in this small store, hearing the locals talking about life on a Saturday afternoon. I got all misty-eyed remembering my childhood when my dad would take me to the hardware store and the men would stand around "chewing the fat" as my father used to say – an expression that still makes me shudder to this day.
But it was part of the time we lived in. Before technology, before Facebook and the internet and mobile phones. When neighbors chatted over the fence, or around the wood stove in the general store. I was brought back to that place in time, on this ordinary Saturday in March, in coastal Maine.
Posted by Kimmy Sophia Brown
Image(s) from Wikimedia Commons