Posted by Kimmy Sophia Brown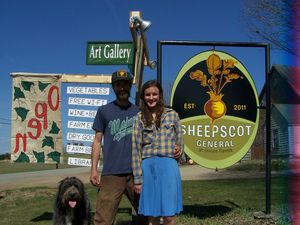 I subscribe to the email list of a musician named Bertie Kohler. A while back I got an announcement that he was going to sing at an open mic event at the Sheepscot General Store in Whitefield, Maine. I thought to myself, what an odd location for an open mic event. I imagined the audience sitting on bags of flour and seeds – children eating licorice whips and ladies buying bolts of calico fabric during the encore. I decided that I had to see this place!
I began by visiting their website: Sheepscot General Store. You can click on a three-minute video link and see Ben Marcus and Taryn Hammer explain the story of their love and the creation of their store. Well, they don't exactly tell the story of their love, but it is apparent in their faces. (And they both have really adorable faces, which are worth the drive even if they didn't have a store!)
The video, created by Oliver Hartman and Matthew Thompson, was so charming I watched it about ten times. Taryn explains their philosophy; "We'll just put everything in it [the store] that we would buy, and if we don't sell it, we'll eat it!" They have never been in business before and have no previous experience with retail sales. However, with hard work, a big dream in mind and help from others, they obtained licenses, learned to do taxes and are realizing their goal to become a food hub in Lincoln County. Ben and Taryn's story is like a legend from America's pioneer days. Their attitude and gumption is a great example for their generation.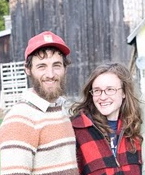 Peter and I enjoy taking day trips to visit places we haven't seen, so this past weekend we finally decided to check out the general store. We drove up Route 1 as far as the lovely village of Wiscasset, Maine, where we had a dandy lunch at Sarah's Cafe, overlooking the Sheepscot River. Then we drove north on Route 218. You eventually bear left onto Route 194 and then a right on Old Townhouse Road. We drove through pleasing miles of rolling hills – past orchards and old, historic farmhouses, with the silvery river peeking through part of the way. Wild flowers greeted us along the roadsides and grew knee-deep in the meadows. There were flower gardens and vegetables patches replete with all the glory of the intense colors of a Maine summer. There were sheep, horses, cows, llamas and alpacas too.
We finally arrived at the store in Whitefield. Beautiful fields extended in front of it, and behind it, on both sides of the road. It sat upon a little hill with a beautifully designed sign hanging out front to welcome customers. I took a picture of Peter standing in front of the sign, with a bottle of an herbal soda called Ginseng-Up, that we purchased in the store. Delicious!
Outside the front door under a roof was a big cage with a bunny inside, and an adorable furry-faced dog lay in the doorway. Inside we were greeted with quarts of freshly picked, organic strawberries, counters stocked with baked goods and candy. There were shelves of organic health foods, home-made remedies, candles, bottles and jars and curiosities. Skeins of wool from the local alpaca, llama and sheep farms were for sale, as well as knitted caps and mittens. They have a lending library with seats, where parents and kids can read and rest while shopping and there's an adjacent room where the musical events take place and classes are taught. The back of the building is decorated with strands of colored plastic bottle caps, which lead the way to a modest port-a-potty.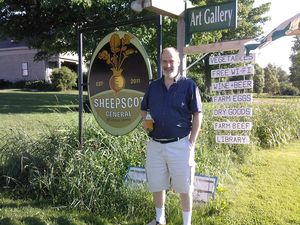 Their website has an event calendar, plus you can sign up for their newsletter to keep abreast of local produce for sale, local beef and fish, classes, speakers and entertainment. It's the good old days all over again. If you come to Maine, make sure you take time to drive out to this beautiful spot, and bring a lot of money to spend on local goods for your friends and family. This definitely qualifies as a worthy day trip while you're in Maine! We loved it. Ben was personable and fun to chat with, and we hope to meet Taryn someday. Maybe we'll meet her when we come to hear Bertie Kohler perform at the next open mic night.
Photos used with permission