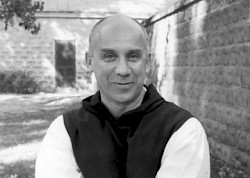 The following quote is from Thomas Merton's book, The Guilty Bystander:
"There is a pervasive form of contemporary violence to which the idealist most easily succumbs: activism and overwork. The rush and pressure of modern life are a form, perhaps the most common form, of its innate violence. To allow oneself to be carried away by a multitude of conflicting concerns, to surrender to too many demands, to commit oneself to too many projects, to want to help everyone in everything, is to succumb to violence. The frenzy of our activism neutralizes our work for peace. It destroys our own inner capacity for peace. It destroys the fruitfulness of our own work, because it kills the root of inner wisdom which makes work fruitful."
---
Thomas Merton was one of the most respected and beloved Catholic writers of the 20th century. Born in 1915 in France, to parents who were artists – his mother was American, and his father was from New Zealand – he grew up partly in France, and partly in the US. His mother died when he was only six, and his father died when he was sixteen. He studied at Cambridge University in England, and at Columbia University in New York, intending to become a writer. He did fulfill that goal, but in a different way than he had originally intended.
At the age of 25 he entered the Abbey of Our Lady of Gethsemani, Trappist, Kentucky. The order of Trappist monks was originally founded in the 1600s in France – the Abbey in Kentucky was built in 1848. They emphasized silence to create an atmosphere of prayer and contemplation. Among the requirements of Trappist monks who were entering into God's service, and thereby dying to the world; there was " no meat, no fish, no eggs, no heat, no baths, no hair on top of the head, no talking (only sign language,) no music except sacred chant; no leaving the grounds, no "particular friendships," and no privacy."1
Merton wrote over thirty books, numerous poems, including his biography, The Seven Storey Mountain. It has been read by millions of people and has remained in print since its first publication in the 1940s, garnering several million readers.
It is ironic that Merton wrote the above quote before his death in 1968, which by comparison to today was a time of relative calm. This was before the invention of the pager, the answering machine, the cellular phone, the home computer, the IPAD, and all the applications which drive us into further frenzy such as Twitter and Facebook. Never before were his words so relevant. One wonders what further inventions of frenzy await we who live in a relative calm in comparison of what is to come?
Posted by Kimmy Sophia Brown
1. Paul Elie, An American Pilgrimage, Farrar, Strauss, Geroux, page 145.