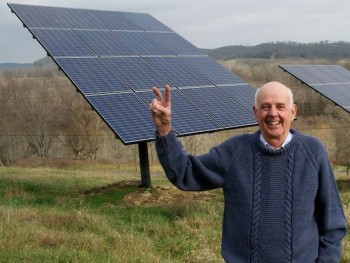 "There are no sacred and unsacred places; there are only sacred places and desecrated places. My belief is that our life and the world in it are conditional gifts." - Wendell Berry
---
We are blessed in the first part of the 21st century to still have a handful of elders with us whom, if we listen to them, can show us the way to protect and care for our beautiful earth and pass its stewardship on to future generations. Some of those I refer to are E.O. Wilson, Jane Goodall, Dr. Sylvia Earle, Dorothy Maclean, Joanna Macy, David Attenborough and Wendell Berry.
Their missions are varied, but their message is essentially the same. They have studied and loved the earth in their various fields of expertise, and all of them carry a sense of the seriousness of the time we're living in. We're at a crossroads as a human race, and it is of the utmost importance that a shift occur in humanity's perception of the planet and our relationship to it. Great destruction has occurred to the oceans and forests, species have gone or are going extinct, and because of pesticides and herbicides, many of the pollinators are in peril. Since the 1950s awareness has increased but the damage seems to be escalating. We have a window of time to reverse some of the damage for the sake of future generations.
Wendell Berry is an author, poet, farmer, husband, father, grandfather and activist. His life has been spent writing, growing crops, raising a family while living in a community, and speaking out about various issues when his conscience felt called. His observations are potent without being strident. One senses that he is a man of thought and prayer.
There is a wonderful essay that serves as introduction to a collection of his poems, This Day, Collected and New Sabbath Poems 1979-2013. Here is an excerpt:
The idea of the sabbath gains in meaning as it is brought out-of-doors into a place where nature's principles of self-sustaining wholeness and health are still evident. In such a place – as never, for me, under a roof—the natural and supernatural, the heavenly and earthly, the soul and the body, the wondrous and ordinary, all appear to occur together in the one fabric of creation. All stand both upon the earth and upon the fundamental miracle that where once was nothing now we have these creatures in this place on this day. In such a place one might expectably come to rest, with trust renewed in the creation's power to exist and continue.
In 2017 the Sundance Film Festival featured a documentary directed by Laura Dunn, about the life and work of Wendell Berry, entitled Look and See. Featured in the movie were clips of his speeches in the 70s, speaking on behalf of farmers and the preservation of small farms. He reminded us then that not only crops are grown on farms, but families, and communities, and the feeling of pride from raising food for one's own family and for others. There were interviews in the film with farmers who attempted to follow the recommendation of 1970s Secretary of Agriculture, Earl Butz, to shift the scale of farming to a business for profit model. Rather than preserving a way of life with time to be with their hands in the soil and seeds, farmers planted and harvested gigantic tracts of land, using expensive equipment. The love of farming was replaced with sleepless nights worrying about paying back bank loans, management of labor, and slim profit margins despite the hundreds of thousands of dollars that had been invested. This kind of farming still exists today and has increased the mentality of land as commodity rather than land as an ally and partner.
In the film Look and See, Mr. Berry's daughter spoke during an interview about the fact that the town where she grew up was now a shadow of its former self. The small farms had been squeezed out and sold off, and people were forced to move. Now the town has no grocery store, and many of the other businesses closed. Similar things have happened all over rural America.
From the introduction to This Day, Collected and New Sabbath Poems 1979-2013:
For anybody conscious of the history of the collision between the living world and the purposes of mechanistic humans, and of the marks and scars almost everywhere of that collision, heartbreak comes easy and rest comes hard.

. . .

By disfigurements that our time imposes upon our consciousness, by scars of bad history that mark the land, by sounds of machinery dominating the air, the mind may be returned to themes of loss, estrangement, and sorrow. That one is sometimes able, among the disturbances of the present world, to wander into some good and beautiful whereabouts of woods, grow quiet and come to rest is a gift, a wonder, and a kind of grace.
And regarding the word "wild":
As for wild, I think the word is misused. The longer I have lived and worked here among the noncommercial creatures of the woods and fields, the less I have been able to conceive of them as "wild". They plainly are going about their own domestic lives, finding or making shelter, gathering food, minding their health, raising their young, always well-adapted to their places. They are far better at domesticity than we industrial humans are. It became clear to me also that they think of us as wild, and that they are right. We are the ones who are undomesticated, barbarous, unrestrained, disorderly, extravagant and out of control. They are our natural teachers and we have learned too little from them. The woods itself, conventionally thought of as "wild," in fact is thought of and used as home by the creatures who are domesticated within it.
Wendell Berry is in his eighties. He and Tanya, his wife of sixty years, have lived on their farm in Kentucky since 1965. He has authored thirty some books of poetry, fiction and non-fiction, as well as responding to the call of worthy causes from time to time. As recently as 2011 he and a group of 14 activists were locked into the Kentucky governor's office for a weekend, demanding an end to mountaintop removal.
Posted by Kimmy Sophia Brown
Photo of Wendell Berry by Guy Mendes - Wikimedia Commons - CC BY-SA 3.0